Polyvinyl chloride (PVC) is a synthetic material that is made by polymerising vinyl chloride. It is a thermoplastic, which means that when heated it becomes pliable. Because of its chemical and biological resistances, PVC is an ideal material for use in industrial food grade hoses. Within the umbrella bracket of PVC hoses, the food hose industry consists of several types of industrial hoses including suction hoses, watering hoses and beverage hoses.
In this blog, we'll explain the regulations on PVC hoses, which industries use them, and the main functional use of PVC hoses.
What are the Regulations on PVC Food Grade Hoses?
The food industry is an extensive market that requires strict precautions and measurements in order to produce high quality safety standards. This applies to all aspects of the food process, including the industrial food grade hoses that are used for suction and discharge of liquids. Predominantly, the material used in the manufacture of these industrial food hoses is PVC, which is known for its durability, density, and value for money.
PVC industrial food grade hoses have to be abide by certain guidelines before they can be used in the process of food manufacturing. The raw materials used to manufacture the hose must have approval for use in contact with foodstuffs, solids and liquids. The Registration, Evaluation, Authorisation and Restriction of Chemicals (REACH) regulation is a European Union directive from 2006. Its primary purpose is to address the production and use of chemical substances, and their potential impacts on both human health and the environment.
What is the Main Function of a PVC Food Grade Hose?
Food grade hoses are used in suction and disc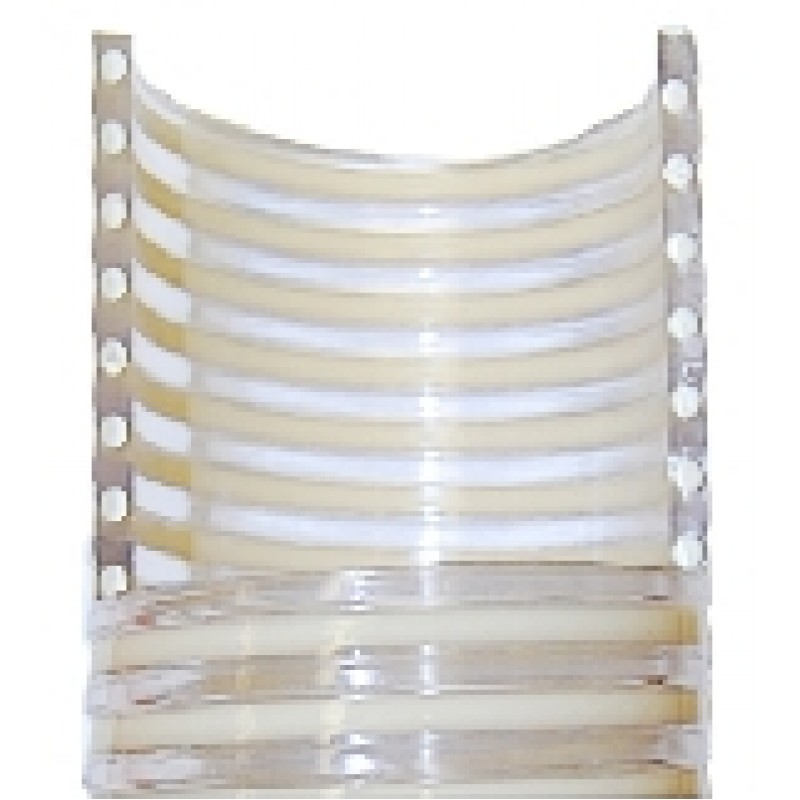 harge processes, which usually includes the transportation or movement of foodstuffs. Food hoses can be used to handle bulk foods, dry food products, canning, bottling, wineries or distilleries. These are special applications in which the hose needs to perform with maximum reliability and consistency.
Hoses are required to be made from high quality, strong, durable materials. If the hoses were designed with weak, unsafe materials, food hose lines could be at risk of breaking causing devastating results to the high-yield process. Any risk of breakage to the hose could cause major profit loss and unnecessary downtime of machinery and the food processes which are involved.
As such, the construction of industrial food grade hoses is a rigid PVC spiral which is encased in non-phthalate flexible food grade PVC. Non-phthalate PVC is material which is free from substances which are deemed as being 'Very High Concern' under the REACH regulations. It's important that the REACH regulations are abided by across the whole spectrum of food hose application in order to assure the most efficient, safe and healthy results for the consumer.
PVC Hoses at Hose Shop
We understand just how important it is to the manufacturer to provide the highest, most reliable and durable range of food hoses in order to ensure smooth processing and successful manufacturing. We provide a range of suction and discharge hoses made from 100% PVC. The high standards of hosing are set to protect manufacturers in the food industry against fault that could cause injuries, un-wanted expenses and prolonged machine downtime.
A food hose should be weather resistant, rot and chemical resistant and crush and kink resistant. If a food grade hose meets these requirements, and is supplied by a trusted, quality manufacturer you can be assured that the equipment will provide reliable transfer.
Contact our team or see our range of food grade hoses available for many food suction and discharge applications. Recent Hose Shop customers have included the West Indies Sugar & Trading Company partnership in Barbados, and an industrial food supplier who purchased 300 metres of PVC hose.