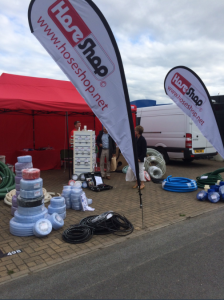 At Hose shop, we are looking forward to exhibiting for another year at the Great Yorkshire Show! This year, the show falls on Tuesday 11th – Thursday 13th of July. Featuring the pinnacle of British farming and agriculture, the Great Yorkshire Show has been officially going since 1847 and has therefore been a huge part of Yorkshire's proud history. The show came as a result of the decision to form an organisation known as the Yorkshire Agricultural Society. The purpose of this organisation was to improve and develop agriculture and hold an annual show to display agricultural excellence.
The first Yorkshire Show has been held at various locations in Yorkshire, and it wasn't until 1950 that the show made a permanent home at a purpose-built showground in Harrogate. Now, the show has become more than just a display of agricultural and farming excellence, but has become a fantastic boost to Yorkshire's economy. The Agricultural Society conducted an in-depth analysis into the economic impact on the Great Yorkshire Showgroud. The society concluded that the show benefits the local Harrogate district by £35m. This includes visitors booking local hotels, restaurants, and also exhibitors at the Great Yorkshire Show itself. Last year, 134,026 people attended the show!
The figures speak for themselves; the show is the place to be for all local businesses to expand their customer base. We have an extensive range of agricultural hoses that we love to display at the show. These hoses include Layflat Hoses and PE Non WRAS Water Hoses. In agriculture, hoses help to achieve a range of tasks; from irrigation to providing drinking water for livestock, there are various hoses for a variety of different tasks.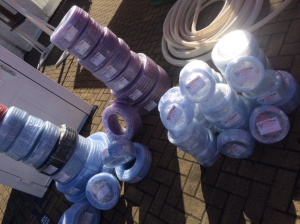 Holly Shakespeare speaks on behalf of Hose Shop's experience last year:
"Our favourite part of the show was chatting to our customers. Hoses can be used in so many industries, it was really interesting to hear some of the creative ways that our products are used. The most memorable was the use of our Medium Duty Suction Hose to improve visibility on a horse show jumping course – the hose was placed on either side of the jump."
Because people travel from all over the country to attend the show, we are able to make connections far and wide. Not only this, but it is a great way to meet other businesses and network this way. Because our products are predominantly sold online, we jump at the opportunity to go back to the basics and set up a store at the show. Getting the chance to talk about our products and show them to visitors is an opportunity that we love to take.
Last year's exhibition involved, in true Yorkshire style, gale force winds, torrential rain, and plenty of sunburn. But despite this, Hose Shop cannot wait to return. Look out for our stall to see the quality products that we have to show. If you can't attend the Great Yorkshire show but would like some advice, please do not hesitate to contact us.